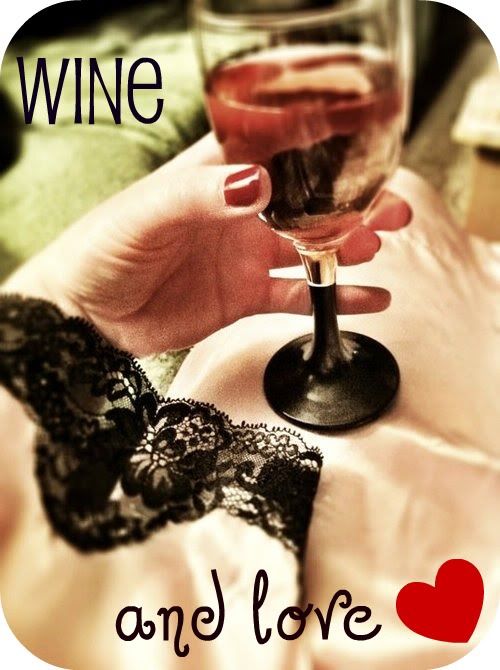 Wine and Love brought to you by Nora, and now hosted by suki at Superduperfantastic. What is wine and love? Wine/Love: things during the week that made you reach for the wine, and things that you loved.  This particular wine and love post was actually inspired by a Q&A that Kelli from Baby Belly Kelli posted on her Facebook fan page. So, two birds, one stone.. you get the picture.

Question 1: How do you and your family celebrate the Holidays and where are you from?
Wine
Same wine different week. I won't bore you with that. And, the holiday blues that have suddenly arisen? That can be easily remedied with quality time with family, friends, and love, actually. (Well, love, definitely, and the movie, Love Actually.  Instead I'm going to write about random Christmas memories that fit so well in the love category, and that can answer the above question.
Love
Christmas now is less of the gift-giving celebration that it used to be when we were kids, and more of spending time with family, stuffing our bellies full; And if we've learned anything from last year, there's much laughter and much drinking. I have no problem with this. Luckily, most of my family is in the San Francisco bay area. I've got a few in Washington state that I don't see often, and some cousins sprinkled in Hong Kong, but for the most part, the gang's all here.
Christmas/Winter Nostagia — I remember waking up early every Christmas to have at it under the Christmas tree. We didn't have the open one gift on Christmas eve thing. In 1987..
I remember that one winter sitting by the fire with our grandparents, waiting for our parents to get home. We raced downstairs to the garage to greet our parents and check out the new Toyota Corolla hatchback. That was the first time I remembered learning about 'new car smell'. There were many winters where we lit that fireplace. It makes me miss our childhood home. The smell of baked sweet potatoes. I remember running my fingers along the hideous dark green coarse carpet. I don't miss that carpet.
By the time we hit school age, we had arts and craft ornaments to be strung, and thus came the Christmas tree that was a tradition for years. I remember coming home during college and putting it up one year because my parents didn't feel like it. That Christmas tree stayed up for over year that time. That Christmas tree is still alive even though, it was never truly alive. (Plastic!) It's suffered a few missing limbs, but my sister has that same tree with the some of the same ornaments. Those new Christmas, glittery balls have nothing on our decade old ornaments. Those guys have spent most of their lifetime tucked into a bag, smashed together with their fellow soldiers, angels, the occasional reindeer, tiny, plastic-encased Christmas trees with our school photos inside, and other DIY school arts and craft ornaments. The battle wounds are clearly visible: missing googly eyes, instruments, and some other unknown items, apparent only due to the dried up wad of glue left in its place. What was he holding? We'll never find out. My well-kept Snuffaleupagus stocking (ok, fine, he's missing a sleigh that once was glued to his bottom) is now up on the mantle, that's next to the same Christmas tree.
Snuffy stocking. I loved him. My mom would give us random stocking stuffers like a tube of Estee Lauder lipstick in Pepto Bismol Pink (and of course that was AMAZING at the time).. And as we got older the stocking stuffers turned into money. WIN. One year we got these wrapped up plastic eggs from an aunt and uncle. Each one had a stuffed animals inside. "Yellow Monkey" and "Lamby".
Guess what kind of stuffed animals they were.
I also got a magic kit one year. I was obsessed for a short while.
I've never known what it's like to have a real live Christmas tree. I think of it as a fire hazard, and we all know a real tree has real bugs. It would be nice to pick one out and do all that holiday thing that some families do, but again, the bugs thing freaks me out.
Some of my childhood-favorite stuffed animals were from Christmas. Winchester the bear. Seester got a pink robe that year.

Oh.. heyyyy! Unfortunately, I couldn't find the one where it's seester on Santa's lap and me freaking the eff out. So enjoy. Seester's new pink robe and Winchester makes an appearance. So readers, please feel free to answer below in the comments 🙂 How do you and your family spend the holidays, and where are you from? Or, if you don't spend it with family, who do you spend it with?